Hardware information:
Automatically get the hardware configuration information of the computer.
Automatically obtain detailed hardware information of computer operating system, CPU, GPU, main board, main hard disk, display, and memory. Accurate hardware detection can help you to view computer configuration information more conveniently and intuitively. It can be copied by one click, copied or shared directly. Go to Facebook and compare with your friends to discuss what kind of computer configuration can run the game more smoothly.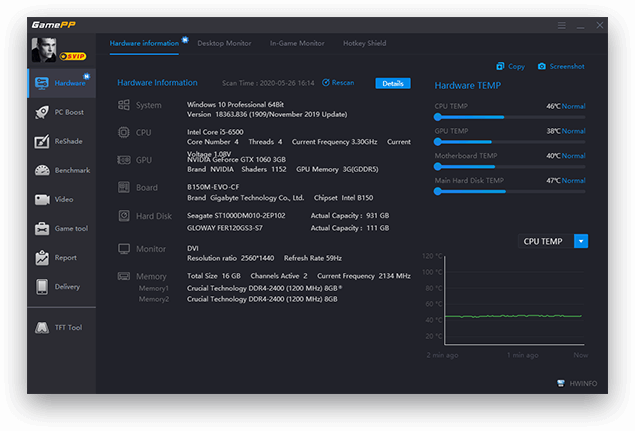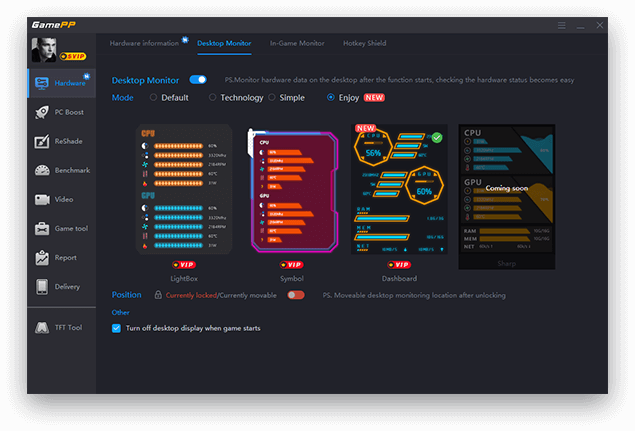 Desktop display:
The hardware running status is displayed in real time on the desktop.
On the desktop, the provides processor CPU temperature, frequency, occupancy, graphics card GPU temperature, frequency, occupancy, fan speed, memory usage, RAM usage, network upload, download speed real-time hardware monitoring data display, users can choose according to their needs to display Hardware operation information, real-time hardware monitoring can help users to understand the operation status and health status of their computers more clearly and intuitively, and help users use computers more efficiently.
In-game display:
In-game hardware monitoring, in-game settings.
In the game, the computer provides hardware real-time monitoring data information such as FPS, processor CPU, graphics GPU, memory, hard disk, etc. Real-time hardware monitoring can help users understand the current operating status and health of their computers more clearly and intuitively. At the same time, whether you change the information you want to display, or adjust the ReShade quality patch, you can change it in the in-game call interface.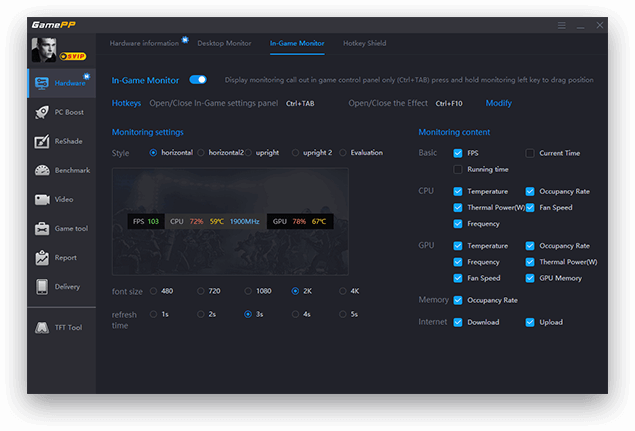 Optimization game:
The power supply scheme is adjusted according to different computer configurations.
When this feature is turned on, you will get a dedicated game optimization speed-up solution tailored for gamers, such as power optimization, CPU Cores Program,Turn off some non-essential functions and effects in the game, which can significantly improve the number of game frames.
Tip: Due to the large number of computer hardware, the improvement effect brought by different hardware platforms and systems is different. The specific improvement is subject to the actual improvement of users.
Block hotkeys:
You can choose to block some system buttons during the game.
This feature solves the problem that the player may be malfunctioning due to some system hotkeys during the game. Players can choose to block some of the following hotkeys: "Shift", "Win", "Ctrl+Shift" input method, hotkey, "Ctrl+Space", "Alt+~", etc. It can be set to switch to the English input method function by default in the game, so as to avoid unnecessary loss caused by accidental touch of the hotkey function in the intense operation.